My Mom and Dad
were wise people who, despite their faults, did their best to live by God's guidance. Here are some of their "carved in stone" words to live by:
1) Always buy a house on a corner lot. (our house in Lake Zurich, IL was a gift from God, and violated this rule, but made up for it by being close to the largest piece of private property in town....she was also host to many a traveling stranger in need)
2) Always buy a house within 1 hour drive of an international airport. (85 Linden was a 35 minute run to O'Hare)
3) Never buy a car in its 1st model year. ( my 1985 Plymouth minivan
was an exemplary vehicle which I sold to another cop friend at 110,000 miles and it served her well for many more).
4) God will never give you more than you can handle. (but He has sure taken me right to the edge and had me looking over it before pulling me back from the brink)
And THAT is how things proceeded with my full knee replacement. Two times my surgery was scheduled and two times it was cancelled, literally as we were driving to the hospital. A change of doctors and the third time was the charm.
The hospital was another story, in and of itself. No shower (in 4 days), no change of bedsheets
(in 4 days) despite the fact that the nurse let me bleed all over them each time she messed with my IV, 2 hour waits for pain medication (every time). No home therapy or CPM machine scheduled for my arrival home (I finally got it all scheduled a week and a half later), and, yes I had requested these things way in advance. It was so bad, I have filed a formal complaint with both the doctor and my insurance company. If you know me at all, you know this is not like me.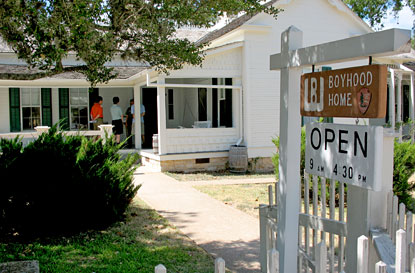 All of this difficulty was assuaged by the good news of receiving our next assignment to follow this current 4 months at Lyndon Baines Johnson National Historic Park in Johnson City, Texas.
We will be working as Interpretive Guides here at LBJ's boyhood home
and the "Texas White House" from January 1, 2014 until April 30th.
After that we will break camp and head home to northern Illinois for a 10 week visit with family and friends. Just a few to represent:
My BFF Audrey
Jamie, Emily, Sophia & G
Jim & Christy, Mac & Gus
Cyndy (Bill's 3rd daughter) Johnny, Christine, Kate
Katie, Moira, Teagan and Bil (Bill's youngest)
Jan's cousin Lee
Don and Lisa Whetstone (friends)




Bradford (friend)
The Padulas (friends)
Jan's high school gang (Angela, Adrian, Vince, Carol)
Tami (Bill's 1st born) Brett and Natalie (oldest grand) and Max
Joie (Bill's sister) Kathy (Bill's sister) Dave (Bill's brudder)
Kevin and Beth (friends)
Where, during this time, we hope to get LOTS of this!!!!
And spend a few weeks here (our favorite campground- Starrett Lake, Sayner, WI)
Then on, around, or about July 13, 2014 we will take off on our next adventure: Cape Hatterras
, OBX, North Carolina,
and we'll dig in our heels there until December 15th. This schedule will allow us to be home for Christmas 2014. After that....who k
nows????
Back to the present: we left Joshua Tree on December 19th to head for LBJ National Historic Park in Johnson City, Texas. As we got off very late in the afternoon, our 1st night was spent in Salome, AZ at Dick and Debbies. The next morning we made haste for Las Cruces, NM
where we found La Hacienda RV Resort to be a very hospitable, comfortable and quiet place to bunk for the night. Day 3 found us crossing into Texas, where we camped at the Lower Llano River State Park

http://www.youtube.com/watch?v=tPtlgWyRqs8&feature=player_embedded
in the Texas Hill Country 1.5 hours from our final destination.
The driving was challenging on my new knee, but I had my secret weapon....my painkiller was keeping me pretty comfortable. On the day we arrived in TX (with CA script for painkiller in hand) we were excited to get to our new "home" and settle in...but 1st a stop at the pharmacy to fill that script. No big deal, Right??!! Guess what??? A Ca script=no meds in Tx. Horrible horrible horrible night. The next day, on the pharmacists suggestion, we went to the ER. After 6 hours we were politely informed by an ER doc that he did not have authority to issue a script for this medication. In his defense, he did then send me on to an Urgent Care Clinic down the road. There, we had the privilege of spending 3.5 more hours waiting on a doctor. I was finally cared for and on our way.
Day 3 in Texas was Christmas Eve, and with medication on board, we headed to Fredricksburg to complete our Christmas shopping
Merry Christmas to us: When in Texas

and prepare for a fun filled Christmas Eve with Bill's sister Jane
and her husband Tim,
Photo courtesy of Jacob (5 YOA)
their younger son Ben
, and his wife Jen
, and children Jacob and Olivia.
Our cohorts at LBJ, Louise and Hank, joined in the festivities and a great time was had by all.
Hank and Louise

Hank and Louise are friends we made at The Cradle of Forestry over a year ago. They, like us, are full time nomads who were also lucky enough to land a position at LBJ, arriving a few days prior to our making an appearance. It is with gratitude we thank Hank & Louise for showing us the ropes around the Texas Hill Country when we were so otherwise preoccupied in those 1st miserable days.
The only downside is that Bill and I are stationed in "the back 40" in Johnson City at the LBJ Boyhood home and Hank and Louise are stationed at the "north 40" at the "Texas White House" 15 miles down the road from us in Stonewall, TX. As Bill and I will be leading tours at both locations, we will still be ab
le to connect up with them from time to time.
Upon arriving home late, after the wonderful Christmas Eve Janie provided, we hit the sack hard and fast....for 3 hours. At 2 AM the hammer fell....Bill shot out of the bed, and, well, all I can say is that it's good our bathroom is so close. It was readily apparent to even the most casual observer (which I certainly was not) that this man who never gets sick, was in a world of hurt. Vomiting, body aches, migraine and he was out for the count, not lifting his head from the pillow until 6 pm Christmas Day, when he managed to eat 3 crackers. (this lasted 3 days)
The disappointment at having to cancel our Christmas plans was immeasurable, but I knew God had a better idea. In this case Bill and I got some much needed rest. Good times will still be had by all over the next 4 months.
The days of rest did us a world of good and we were rejuvenated and ready to meet our new Volunteer Coordinator at 9 AM Friday.
I was seriously alarmed when this man of no obvious humor looked at me and said "what's the cane for?". After receiving the explanation, he said "and you're going to be able to be on your feet 8 hrs a day, 4 days in a row?" I said "yes", twice, with more bravado than I really felt. We will not really get rolling for another week. I ask my prayer warriors for backup support....Thanks!!!
Our little campground here
has 8 sites, with 3 currently filled. Rumor has it that we will be getting more company soon. The laundry room is 30 steps from my front door, and is very nice. All in all I think this will turn out to be an assignment we will really like. Though it would be impossible to replace the Cynthias
Cynthia-Campground Coordinator at Joshua Tree NP




of the world, make the best of it we will, and have a great time doing so.
For example: we hooked up with Hank & Louise and took our 1st tour of the Texas White House to get a feel for what we will be doing. First of all, we had a great time, but more striking was the feeling I had when we left...the feeling of simplicity, minimalist decor and size and scope of the entire house, which would PALE in comparison to the home of a modern day politician. Despite LBJ's huge/expansive ego, his digs were quite modest.
P.S. do you know why the ranch in Stonewall, TX was called the "Texas White House"? (answer in the next edition)
Today is New Years Eve, and for the first time in many moons, we are going out. Joining up with Tim & Jane, Hank & Louise to partake of some Mexican food along the San Antonio Riverwalk. This is the closest interpretation of the January 1st Annual Mexican Blowout, sponsored by Bill for many years, that we can attend without a great deal of food prep., or space for all those friends. (for those who do not know what the "Blowout" is: for over 30 years, give or take 1 or 2, Bill has thrown an Open House on January 1st and served as many as would show up all the Mexican food they could tolerate. This is one of our most cherished and forfeited customs....Jane may have inadvertently triggered a new take on this old tradition.
So, as the sun sets on 2013
we wish you and yours the best old friends, the best new friends, and always exciting new landscapes to keep you challenged, healthy and happy!
Happy Trails and God's Blessings