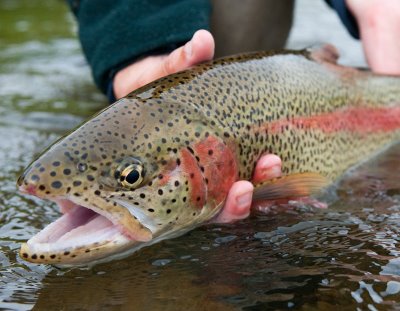 Just a representation :-)
After returning home LATE Wednesday night, we both wanted to go fishing, instead of crash into bed after putting the groceries away. Fish we did, and I caught my 1st Rainbow Trout (an 18 incher no less)
…
Bill got to do a lot of star gazing. Another night it will be his turn and I will get skunked.
We released the little guy back into the water to become someone else's sport another day.
Thursday morning arrived with the reminder that Kay was picking me up at 9am for water aerobics. I always thought of water aerobics as a kind of cushy way to work out. Still, I figured every bit would help with the WW (Weight Watchers). I hereby grovel at my feet…we had a GOOD workout and my muscles are telling me!
Tomorrow we begin "Bands & weights, and my level of dread is in direct correa
lation to my level of NON-fitness.
On a more positive note
: Kelly
is coming to Lake Zurich Sept. 6th to aid us in removing
m
ost of the debris (precious valued items) from the storage unit. These things would be those items we couldn't possibly give-away a year ago, and have since begun to rethink our REAL needs. Fair enough that Kelly is coming , since a goodly percentage of it is HER stuff. But what's REALLY important is that we get to see and HUG her. On a side note: Michael is traveling with her to provide the muscle, so we will get to meet him. By all accounts he is a GREAT guy, and we are also very much looking forward to seeing Michael! Tacos El Norte on Friday night, Sept. 6
th, @
6:30 PM will be the 1
st
order of business… for old tyme sake (Kelly's personal request).
The left knee has made its decision…
full replacement. The knee brace was unsuccessful.
Going to see and do a surgical consult with an Ortho in Salida next week. I did not feel like going all the way to Denver, and Bill had been so happy with this hospital in Salida, that he has made arrangements for me to see a doc there. Will keep you posted.
Where there's smoke, there's fire, but NO the West Fork trio of fires has not affected us. That said, we did have smoke overrun our area Thursday night, enough to sting the eyes. It cleared away in the span of an hour.
Bill certainly been getting his fill of fish, breakfast, lunch and dinner….no, we haven't caught that many, but word is out amongst the long timers (2-3 weeks) that Bill loves fish, and more filets than he can possibly eat have been showing up at our door every morning and evening.
I say filets, but sometimes
the whole fish shows up,
and then he gets
to go to the fish cleaning
station and create his own filets.
Gone are the days when Bill and I cut up and bring home to split 48 inch Oak logs. Now we fill the back of our new Silverado with piles of driftwood that line the banks of this amazing, Gunnison River fishery. Every day a fresh stock of more wood than we could burn in a year drifts ashore.
have landed a gig at the LBJ NHS for January 1st thru April 30th!!! It will be so much fun to work (and play) with them again.
SUCCESS!!!!
wildlife sightings
a
nd (now that July 4th has come & gone) quiet. We walked our rounds twice this week (exercise) and discovered a little waterfall near the edge of the middle loop.
Can't imagine how beautiful it would be with the water at full pool.
Also discovered a mother deer with 2 VERY young fawn…smaller than Molly and all spotted.
I was walking the trash down toward that campsite at the time and was approached by the lead female of the group. After a few questions from her, I ascertained her main purpose was to be near the water. I neatly steered her toward campsite #25, which by sheer coincidence is right on the water AND, the furthest campsite from ours

J

Time proved me right when their parties turned out to be so large, we had trouble getting our little work truck through on the road in that loop. Still, they were VERY cooperative and friendly with us, so it worked out OK and everything seemed to settle down around 9 or 10 the evening.
On the road to Ponderosa
Settled in at Ponderosa
and an immature Bald Eagle, just getting the hang of his flight wings
.
previously, just not as far, until we see small wooden sign directing us to "Old Monarch Pass", which is really not much more than a logging trail,
BUT, what a beautiful logging trail it is. We still took an hour longer to make the trip, but the extra 12 or 13 miles, loaded with amazing skyline panoramas all along the way, made it all worthwhile!
and now, The Black Canyon of the Gunnison National Park. We feel honored to have the responsibility of introducing our grands to our National Parks.
Sayner, WI for a week (this will be up in the air until the last moment).
We hope to circulate the idea of a family reunion in 2014 at Starrett Lake for those family members who might have an interest in doing so. Lord willing, it will most likely take place towards the end of that summer, before the school year resumes.